Easter is a time for joy and celebrations, and what better way to spread the cheer than with some delectable treats from Monginis? Monginis' Easter Eggstravaganza is here with an exciting range of Easter-themed delicacies, including Marzipan Eggs, Cakes, Cupcakes, and much more. With our array of colorful and flavorful treats, you can make your Easter celebrations egg-stra special.
So, let's dive in and explore the delicious world of Easter Eggstravaganza by Monginis!
Marzipan Eggs: A Traditional Easter Treat
Easter is a time for celebration and indulgence, especially for kids who look forward to receiving colorful and delicious treats. From eggs made of cashew nuts and marzipan to milk confection hollow Easter eggs with dark chocolate bunnies inside, the options for sweet treats are endless. Whether you're looking for something that's both visually appealing and tasty or simply want to surprise your little ones with a special Easter treat, these egg-shaped delicacies are sure to delight both children and adults alike
Tips for Hosting an Egg-citing Easter Party with Monginis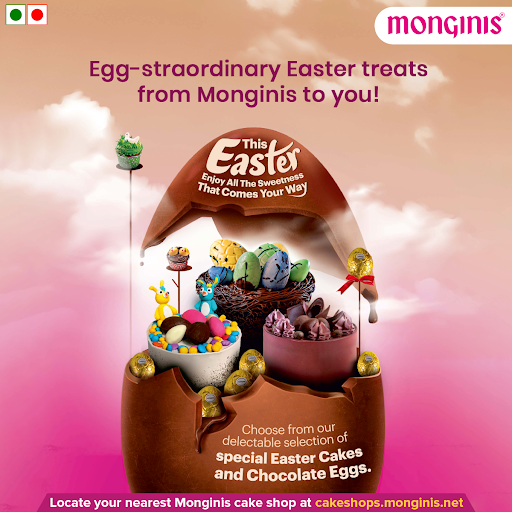 First, consider choosing a theme or color scheme to tie everything together. Next, plan fun activities and games for guests of all ages, such as egg decorating contests and Easter egg hunts. Don't forget to also serve delicious and festive treats, such as Monginis' Easter-themed cakes, cupcakes, and cookies. With these tips, you're sure to host an egg-citing Easter party that everyone will love!
Little Easter Treats: Bite-sized Delights for the Holiday
Easter is a special occasion filled with joy, excitement, and indulgence. One of the most beloved Easter traditions is enjoying a variety of bite-sized treats that bring smiles to the faces of both young and old. These delightful little Easter treats come in many different forms, from egg shapes made of cashew nuts and marzipan decorated with icing and flowers to milk confection hollow. Whether you're looking for a sweet snack to enjoy during an Easter egg hunt or a special treat to share with loved ones, these miniature Easter delicacies are sure to satisfy your cravings and add an extra touch of festive cheer to your holiday celebrations.
Cute Easter Cupcakes
Springtime brings with it the celebration of Easter and what better way to mark the occasion than with some delightful Easter cupcakes? These treats offer not only a delicious taste but also a charming and eye-catching appearance. One particularly adorable variation features chocolate cupcakes with a topping resembling grass, complete with tiny chocolate chicks nestled in the "nest." These cute Easter cupcakes are sure to delight both children and adults alike with their sweetness and festive spirit.
The Perfect Easter Delights
From chocolate eggs to bunny cakes, Monginis has everything you need to make this Easter a memorable one. So, hop into our stores today and indulge in the sweetness of Easter with Monginis!