In honor of Women's Day, Monginis offers a treat, A Special Cake & Complimentries, oh so sweet! 
As Women's Day approaches, it's time to celebrate the remarkable women in our lives who inspire us and make our world a better place. At Monginis, we believe in the magic of every moment, and what could be more magical than honoring the women who bring light into our lives with our special cakes? This Women's Day, let's celebrate her with our unique and delicious cakes that are sure to make her day even more special. Join us as we explore the enchanting world of Monginis and discover the perfect cake to make her feel cherished and loved.
Monginis Women's Day Special Cakes
Treat For HER Cake
The Treat for HER Cake Veg is the perfect way to show appreciation to the special women in your life. This cake is a delicious combination of chocolate and vanilla sponge, exquisitely layered and coated with rich Dutch chocolate. The cake is adorned with a stunning array of cream flower designs, including elegant roses and fancy flower sticks, all given a pretty purse design to truly celebrate women. The vanilla sponge base is also layered with a delicious strawberry layer and decorated with a women's day theme and cream drops. This cake is not only delicious but also a beautiful work of art. Perfect for gifting to the special woman in your life on Women's Day.
Pretty Women Cake
Celebrate the wonderful women in your life with the Pretty Women Cake from Monginis. This delightful dessert features a vanilla sponge base. A delicious strawberry layer, adorned with a Women's Day theme & cream drops on the side for a touch of elegance. Whether you visit your nearest Monginis Cakeshop or order online, this cake is sure to add sweetness to any celebration. So, go ahead and order the Pretty Women Cake today to celebrate the amazing women in your life!
Women's Day Cake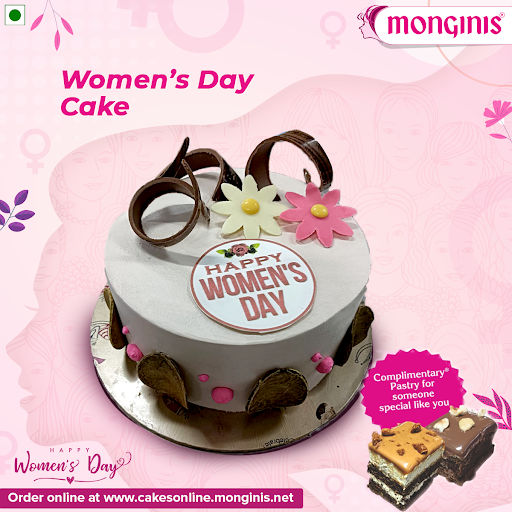 Indulge in a rich and decadent treat! Show the special women in your life how much you appreciate them with this truffle cake. Decorated with chocolate curls and chocolate flowers on top, and a "Happy Women's Day" message, this chocolatey delight is perfect for celebrating the remarkable women in your life. Whether you order online or visit your nearest Monginis Cake Shop. This truffle cake is sure to make any Women's Day celebration a memorable one.
Celebrate Her with Monginis
Celebrating the women in our lives is a beautiful way to acknowledge their strength and resilience. Monginis' Women's Day special offer is the perfect opportunity to show the special women in your life how much you care. With a free Chocotella and BiskoPastry for all walk-in women customers and a 15% discount on online orders using the coupon code "CELEBRATEHER". There's never been a better time to celebrate her with Monginis. 
So, whether it's your mother, wife, sister, or friend, make their Women's Day special with a delicious treat from Monginis. Let's celebrate the incredible women in our lives, and show them how much we appreciate everything they do.