Rose Day, the first day of Valentine's Week, is a special day to express your love and affection for someone special. And, what better way to do that than with a sweet and romantic gesture like a Special cake from Monginis?
At Monginis, we understand the importance of expressing your love and affection through sweet gestures, and that's why we have introduced special Rose Day cakes. Our cakes are not just delicious, but they also make the perfect gift for your loved one. With a wide variety of flavors and designs to choose from, you're sure to find the perfect cake to express your love.
White Beauty Rose Day Cake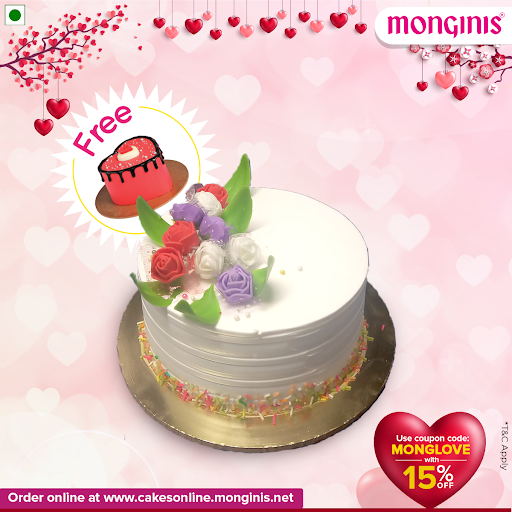 Monginis has a special treat for you this Rose Day! The Vanilla Sponge Layered with Kesar Rose Cake from Monginis is guaranteed to leave your loved one mesmerized. With each bite, the rich flavor of vanilla sponge and the sweet aroma of kesar will tantalize your loved ones' taste buds.
The cake is coated with a thick layer of creamy frosting and decorated with a beautiful array of artificial flowers on top, adding to its visual appeal. To add an extra touch of sweetness, Monginis has also added a layer of assorted vermicelli at the bottom of the cake. So, surprise your sweetheart with this delightful cake and make your Valentine's week start even more memorable with Monginis.
This Valentine's week, get a Mini Heart Cake Free* on purchasing every Valentine's Special Cake. Plus, Enjoy a Flat 15% Off on all Online orders using Code "MONGLOVE" Order Now! Limited Time offer.
Golden Beauty Rose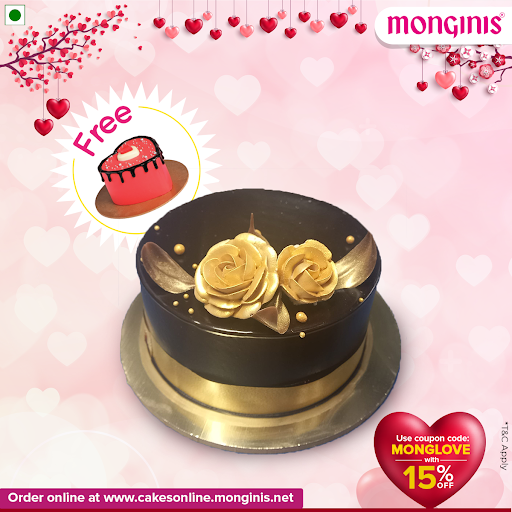 Indulge in the decadence of Monginis' Golden Beauty Rose Small (Veg) cake. This magnificent cake features a rich chocolate sponge, layered with the sweet fragrance of kesar, and coated in a glossy layer of ganache. The ganache not only adds to the visual appeal of the cake but also enhances the already delicious flavor, making every bite a mouthwatering experience.
This delightful cake is perfect for couples looking to celebrate their love in a sweet and indulgent way. So, make your Valentine's week celebration extra special with Monginis' Golden Beauty Rose Small (Veg) cake.
Make Rose Day Magical with Monginis
Monginis is the perfect place to kickstart your Valentine's week truly magical. With a wide range of delicious cakes, chocolates, and pastries, there's something for everyone. Special Valentine's week cakes: Vanilla Sponge & Kesar Rose, Golden Beauty Rose (Veg) available at Monginis.
So, why not make your Valentine's week extra special with Monginis and add an extra touch of magic to your day? Show your loved one how much you care and make this day one to remember with Monginis.