Monginis is not just another cake shop; it is a treasure trove of over 65 years of cherished memories. The illustrious history of Monginis Cake Shop began in 1956 when Hussain Khorakiwala, an enterprising visionary, founded the brand in Mumbai, India. With a commitment to excellence and dedication to work, Monginis quickly gained popularity for its delectable cakes & pastries. The brand's commitment to quality, innovation, and customer satisfaction fueled its growth, leading to the opening of numerous outlets across the country.
Over the years, Monginis has become synonymous with celebrations, birthdays, anniversaries, and every special moment that calls for something sweet. As we step into the year 2023, we are excited to continue our legacy of providing delectable treats that satisfy your sweet cravings.
Let's dive into the details:-
The Wide Range of Delicious Cakes
From "Special Designer" Cakes to the extravagant "Tall n Fancy" collection, we offer unique creations that are true works of art. Experience the exotic flavors infused in our cakes, taking your taste buds on a delightful journey. At Monginis, we extend our love, care, and affection to all our products and services, treating each one as if it were meant for the most cherished individual.
You Dream It, We Bake It
At Monginis, we believe in the enchantment of every cake we create. That's why we pour our heart and soul into crafting mesmerizing 3D cakes. No matter the obstacles we encounter, we always find a way to transform our cake dreams into reality. Our motto, "You Dream it, We Bake it," is not just a mere promise; it signifies our unwavering commitment to excellence. When you seek a cake that goes beyond delectable flavors and embodies creativity and uniqueness, Monginis is your ultimate destination. Trust us to make your celebration truly extraordinary with our magical 3D cakes.
Monginis – Magic every time!
Tempting Treats Beyond Cakes
Indulge in Monginis' tempting treats beyond cakes. Discover savory delights, irresistible pastries, and an array of packaged products that are sure to delight your taste buds. From crispy savories to flaky pastries and delectable packaged goodies, each treat is crafted with the same commitment to quality and taste that Monginis is renowned for. Explore beyond the realm of cakes and experience a world of irresistible flavors at Monginis.
Monginis Cake Shop On the Go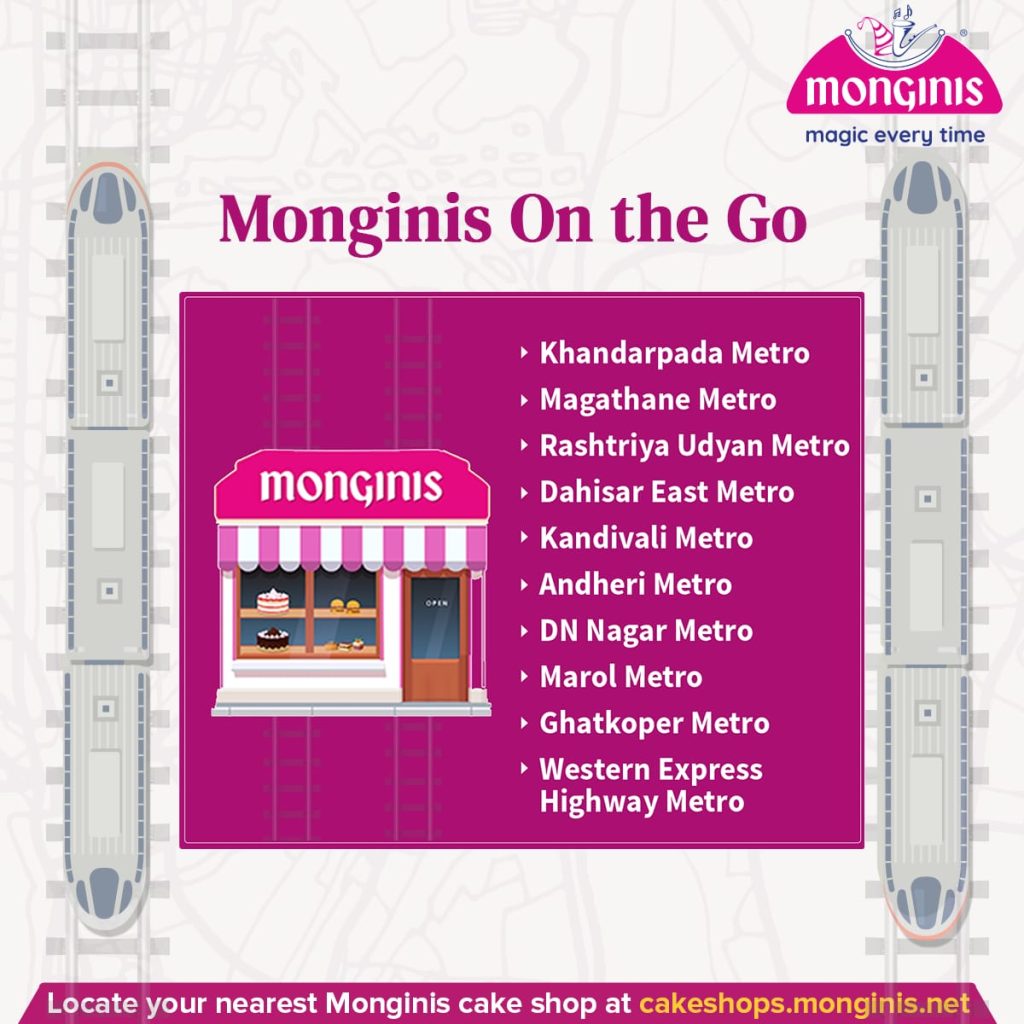 Unveiling the magic of 1300+ shops across 14 states, Monginis awaits to enchant you wherever you go. As you travel the landscapes of diverse cities and towns, our delightful cake shops stand ready to captivate your senses. Indulge in the temptation of our delectable cakes, pastries, and treats, discovering unique flavors and exquisite craftsmanship. Let Monginis be your confectionery guide, ensuring that each destination is adorned with a touch of sweetness.
Locate your Nearest Shop Now at Cakeshops.monginis.net
Crafting Magical Moments for Every Customer
At Monginis, we thrive on crafting magical moments for every customer. Recently, we received a special order for a remarkable 225 Kg Life-Sized Cake to celebrate a young boy's birthday. Our dedicated team worked tirelessly to bring this grand creation to life, leaving both the boy and his loved ones in awe. We are honored to have the opportunity to make your special occasions truly extraordinary, as no challenge is too big for us. It is moments like these that remind us of the immense joy and privilege we have in creating unforgettable memories for our cherished customers.
Experience the Magic of Monginis
In conclusion, come and experience the magic of Monginis Cake Shop in 2023! Indulge in our delicious cakes, pastries, and treats that will bring joy and sweetness to your life. Our dedicated team is ready to serve you with a smile! Don't miss out on the delightful creations at Monginis – your ultimate destination for delicious cakes and more. Visit us today and let us make your moments magical!