Promise Day is the fourth day of Valentine's week, Monginis promises to bring a touch of magic to your special moments. Whether you're planning a romantic dinner with your significant other or surprising them with a proposal, Monginis is here to help make it an unforgettable experience.
One of the most special days in Valentine's week, Promise Day is a day to celebrate the promises of love, commitment, and affection between couples. And what better way to celebrate it than with a sweet and delicious cake from Monginis? We understand the importance of this day and we strive to make it special for you and your partner.
Promise Day Cake 
On this Special Day, make your promises sweeter with our special Promise Day Cake from Monginis. Our cake features a classic vanilla sponge that is layered with a sweet and tangy pineapple cream. The cake is then coated with a rich and glossy ganache, giving it a perfect finish. To make it even more special, we've added a heart-shaped design on top, showcasing your promise theme, and making it the perfect addition to your Promise Day celebration. 
Celebrate the essence of love and commitment with our Promise Day special Cake from Monginis. With its soft and fluffy texture, delightful flavor, and charming design, our Promise Day Cake is a sweet treat that is sure to leave a lasting impression
This Valentine's week, get a Mini Heart Cake Free* on purchasing every Valentine's Special Cake. Plus, Enjoy a Flat 15% Off on all Online orders using Code "MONGLOVE" Order Now! Limited Time offer. 
Promise Day Heart Cake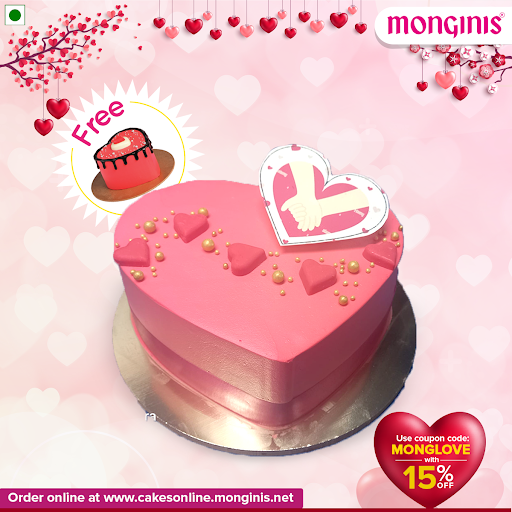 For those who love the classic taste of vanilla, our Vanilla Sponge layered with Pineapple Cream and covered with glossy ganache is a perfect choice. This mouth-watering treat features a delicate and fluffy vanilla sponge that is filled with luscious pineapple cream, making it a sweet and satisfying treat. To add a touch of magic, the cake is covered with a shiny ganache that gives it a luxurious look and feel.
Celebrate Promise day with Monginis, a perfect way to add a touch of magic to your special moments. Whether it's a romantic dinner or a surprise proposal, let us help make it unforgettable with our delicious cakes. This Promise day, make a sweet promise to your loved one with our special Promise day cake. Order now and enjoy same-day delivery or visit your nearest Monginis Cake Shop to pick up a cake. Make this Promise day an unforgettable one! 
Monginis: A Partner in Keeping Your Promises
Celebrating Promise Day is an important occasion to show your partner how much you care and to keep your promises. This year, let Monginis help you make the moment special with our delicious and attractive promise-themed cakes. 
Our Online delivery service ensures that your sweet and thoughtful gesture arrives on time. Making your partner feel loved and appreciated. So, don't let the promise break, and let Monginis help you make this day unforgettable.